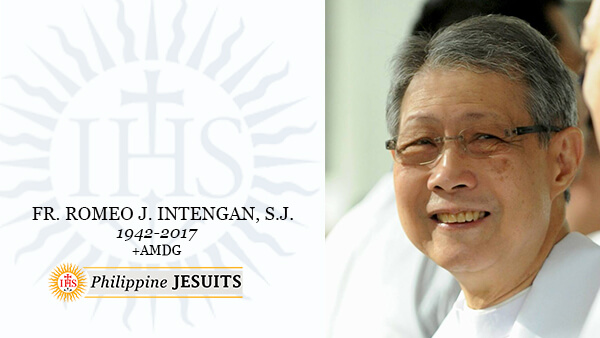 Fr. Romeo J. Intengan, SJ (1942-2017)
October 10, 2017

This is to inform you that FR. ROMEO J. INTENGAN, S. J. died quite suddenly early this morning, October 10, 2017. He suffered cardiac arrest while being brought to the hospital. Fr. Archie, 75, entered the Society on 25 July 1970 and was ordained a priest on 27 March 1977. He served as PHI Provincial from 1998-2004.
Wake:  The wake begins this evening (if the body is ready) in the Oratory of St. Ignatius, Loyola House of Studies [Ateneo de Manila University campus, Loyola Heights, Q.C.]. Daily wake Masses at 8 p.m.
Funeral Mass: Tentatively, on Saturday, 14 October at 8 a.m. in the Oratory of St. Ignatius, LHS.  This may need to be adjusted pending the arrival of family from the U.S.
Interment: Sacred Heart Novitiate Jesuit Cemetery, right after the Funeral Mass.
Requiescat in pace.
---
BIOGRAPHY OF FR. ROMEO JOCSON INTENGAN, S.J. (1942-2017)
By Sch. Amado T. Tumbali, S.J., Asst. Prov. Archivist
Fr. Romeo Jocson Intengan was born on 18 October 1942 in Cauayan, Negros Occidental. He attended primary education at Colegio de San Agustin, Iloilo City (1947-49), St. John's Academy, San Juan, M.M (1949-51), and at Lincoln College, Iloilo City (1951-53) and graduated with a distinction of valedictorian. He continued secondary school at Lincoln College (1953-57) and finished as salutatorian. In college, he took up and completed Pre-Medicine and Association of Arts at the University of the Philippines-Visayas, Miagao, Iloilo in 1960 then he pursued Medicine at the University of the Philippines-Manila, Padre Faura St., Manila and graduated in 1965. He became instructor in the College of Medicine of U.P. (1967-70), and then commenced a residency in Surgery at U.P.-Philippine General Hospital, Manila in 1970.
His medical training came to a halt when he entered the Jesuits on 25 July 1970 at Sacred Heart Novitiate, Novaliches. He entered on the same day with novice-brother Roberto Villamero. However, there were no entrees in the following year; he, Villamero, and Peter Chang (Hong Kong) continued their noviceship at the Loyola School of Theology. After vows, he studied Bachelor of Arts in Philosophy at the Ateneo de Manila University (1972-74) then immediately proceeded to study for a Bachelor in Sacred Theology (1977-78) at the Loyola School of Theology. He was ordained to the diaconate on 11 December 1976 by Bishop Amado H. Paulino, Auxiliary of Manila, at the L.H.S. Chapel and to the presbyterate on 27 March 1977 by Bishop Oscar V. Cruz, Auxiliary of Manila, at the same chapel with Frs. Jose Mario C. Francisco and Jose M. Cruz.
His first assignment as a priest was to teach in the Department of Theology at the Ateneo de Manila University (1978-80) then he went to Jolo and Sabah to do some work with Partido Demokratiko-Socialista ng Pilipinas and the Moro National Liberation Front against Marcos Regime (1980-82). Afterwards, he was sent to Universidad Pontificia Comillas, Madrid to study Licentiate in Sacred Theology, with a concentration in Moral Theology, where he graduated summa cum laude (1982-87).
Post-EDSA Revolution, Fr. Archie returned to the Philippines and was assigned to Loyola House of Studies where he was vice-superior of Juniors and Philosophers (1987-95), consultor and prefect of health (1989-95). He took a break for Tertianship in Mexico (1991-92). A year after, he pronounced final vows on 14 August 1993 at L.H.S. Chapel. On 27 April 1998, he was named the 8th Provincial of the Restored Philippine Province and served a full term until 2004. He played a protagonist role amidst the political turmoil at that time, particularly during the crisis that led to the impeachment of President Joseph Estrada from power and the Second EDSA Revolution.
Fr. Archie returned to formation and teaching ministries after his leadership term. He was assigned as vice-superior of the Theologians (2005-07) and taught Moral Theology at the Loyola School of Theology from 2005 until his sudden death due to cardiac arrest at six in the morning of 10 October 2017 while being brought from the Jesuit Residence to the hospital.