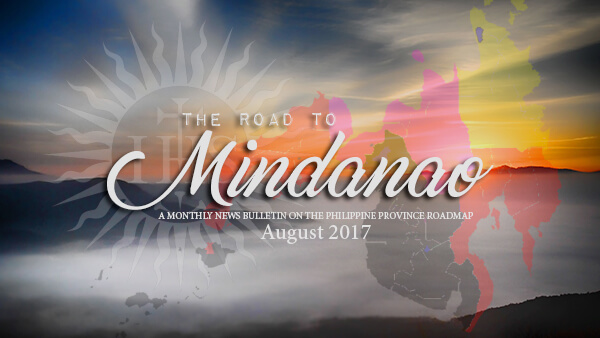 The Road to Mindanao (August 2017 Bulletin)
August 2017

APU PALAMGUWAN CULTURAL EDUCATION CENTER, BENDUM
Sylvia Miclat of the Environmental Science for Social Change gives us some updates on the Apu Palamguwan Cultural Education Center (APC): "The APC Indigenous People's (IP) school opened School Year 2017-2018 with 426 students from Upper Pulangi villages enrolled from Kinder to Grade 9. Most are indigenous children and youth from Sitio Bendum and the connecting schools in Sitios Nabawang and Nabag-o, all in Barangay Busdi, and Sitio Mindagulos in Barangay Indalasa, all part of Malaybalay, Bukidnon. Also part of the Upper Pulangi is the APC connecting school in Sitio Kalasungay in Barangay Balagnan, San Luis, Agusan del Sur. Twenty Umajamnen youth also enrolled as Grade 7 and Grade 8 students at the APC upon the request of Fr Jom Manzano SJ, parish priest of Our Lady of Guadalupe Parish in Cabanglasan, Bukidnon. Space and adult supervision constraints at the Fr. Leoni Memorial High School led to a decision not to accept Grade 7 scholars for this school year. APC and Fr. Jom then agreed to accept the Umajamnen students as incoming Grade 7, along with some Dumagat (migrant, not indigenous) youth.
Classrooms are also being built for the growing number of students at the APC junior and senior high school in Bendum, as the application for Department of Education accreditation of the APC senior high school continues. The APC schools are looking for teachers and an administrator, academic coordinator, and guidance counsellor. If you know of any prospective applicants, please ask them to forward a letter of interest and their latest CV to this email address: esschr@essc.org.ph."
XAVIER UNIVERSITY & ST. THERESE PARISH/SCHOOL, MIARAYON
Despite his demanding work as Academic Vice President of Xavier University (XU), Fr. Rene Tacastacas SJ has been assisting the Jesuits in Miarayon, Bukidnon in various agricultural initiatives. Fr. Rene, who has a doctorate in Rural Sociology, together with St. Therese School Director Fr. Alvin Laput SJ have initiated food production activities within the St. Therese Parish grounds. The proposed crop production activity includes the establishment of a greenhouse and the raising of crops under protective agriculture. New methods of crop production will be introduced especially hydroponics for lettuce production and modified hydroponics for fruiting crops such as tomatoes and bell pepper. This activity hopes to introduce the students as well on new ways of doing food production. For this project, Fr. Rene has donated 3-inch utility pipes to serve as plant holders as well as his own electric rotovator to help the students in their land preparation activities. The rotovator or hand tiller can expedite the tilling of the soil so that plants can immediately be planted, thus fast-tracking crop production.
Fr. Rene has also been laying the groundwork for the XU School of Education's project for the capability building of teachers of Miarayon. The project will focus on the teaching and learning of IPs, with the eventual participation of Cagayan de Oro College and Lourdes College. The project also aims to upgrade the skills of teacher educators in IP education, while optimizing the local knowledge sourced from the students and teachers of Miarayon itself (more on XU support for Bukidnon Mission District programs in our next issue!).
BUKIDNON MISSION DISTRICT
Last August 7 the Bukidnon Mission District (BMD) Jesuits gathered as one community to continue the strategic planning process that they began earlier this year. Facilitating the process was Fr. Gaby Gonzalez SJ (Province Assistant for Planning), assisted Fr. Robert Rivera SJ (Chair of the Commission on Ministries) and Fr. Tony Pabayo (Education Consultant for the BMD Schools). Part of the process involved orienting the newly arrived BMD priests (Fr. Bros Flores SJ, Fr. Harvey Mateo SJ, Fr. Irmo Valeza SJ, and Fr. Philip Yohan SJ) to the previous plans and strategic directions adopted in previous sessions.
One of the most important resolutions during this meeting was the consolidation of various teacher enrichment programs, formation activities, and other fund-raising initiatives for the whole district. In this regard, the community decided to assign Fr. Bros Flores SJ as coordinator for BMD-wide projects and activities, especially for the benefit of the schools within the BMD. Fr. Jom Manzano SJ continues to coordinate IP related activities for the whole Province as Ad Hoc IP Committee Chair. Through this arrangement, it is hoped that the BMD can be more responsive to the needs of its constituents, and in the long term, to reach out and go further to the peripheries, especially among IP groups. Inquiries regarding assistance for the Bukidnon Mission District can be coursed through Fr. Bros Flores SJ via email: aflores@phjesuits.org.
---
NOTE: This bulletin is meant to keep our Philippine Province Jesuits and partners in mission updated regarding developments in the implementation of the Province Roadmap. Please email any news contributions from your respective apostolates to rrivera@xu.edu.ph.