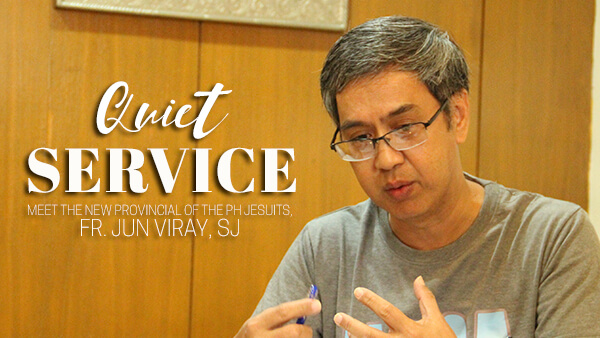 Quiet Service: An Interview with Fr. Jun Viray, SJ
Sch. Mamert Mañus, SJ, Lead Interviewer, with the Jesuit Vocation Promotions Team
November 17, 2017

In the run up to his installation as the 12th Provincial Superior of the Jesuits in the Philippine Province of the Society of Jesus, Fr. Primitivo E. Viray, Jr., SJ, or Fr. Jun V as he is fondly called, received the national vocation promotions team into his office and graciously granted an interview. This interview sought to understand the mind and heart of the new Jesuit provincial who will be leading the 250+ men of the Philippine Province over the course of the next six years.
1. How did you become a Jesuit? Who inspired you to become one? Who are your models of leadership?
It's a difficult question in that I've always found it mysterious why one is called. Any vocation in general, whether the priesthood or the married life, is always a mysterious call from the Lord. And as I look back over the years, of course the inspiration came from Jesuits in what used to be Sacred Heart School – Boys, or what is now Sacred Heart School–Ateneo de Cebu. There was no one particular Jesuit that inspired me, but I think all of them, the ones we looked up to and even feared, certainly radiated much joy in their service. It was not the sort of loud, inspiring kind of service, but a very much quiet, day-to-day, helping us in school kind of service. And so I said "oh these men are certainly doing a lot of things but in a quiet way, day in and day out."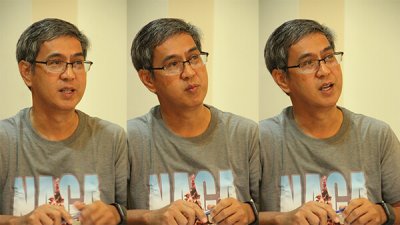 So when I look to people who are my models for leadership, I look to the Jesuits who do not make a loud noise, who in their own ways just keep doing their work, their mission, very quietly. So when I was in Ipil Prelature which was still our mission up until the 1990s, Fr. Dagani and all the other missionaries who were present way before I was assigned there, always gave a sense of deep joy and inspiration to me because it was the people themselves who said "oh, we remember Fr. Dagani, all the other Jesuits who have come earlier than you." And the people who remember these Jesuits are really the very poor ones, not those who are privileged or powerful; rather it is the poor people who have inspired them, helped them and really journeyed with them. So this is really what a sense of leadership is for me: a quiet serving and faithfulness to the mission that has been given to them.
2. What did you feel when the announcement was made?
People have always been asking me "oh, ano, kumusta ka na? How are you after all this?" To be honest, I was very much at peace. Of course, I know what is – or maybe I should say "I think I know" – what the challenges are up ahead. But there is no anxiety maybe because, as I have told Fr. Tony Moreno before, as well as Frs. Jojo Magadia and Danny Huang, I have always said yes from the very beginning to the calling to become a Jesuit. I've tried my very best to say "yes" and I think there is no reason for me to say no. Having been appointed by Fr. General, my sense is "who am I to refuse the mission that is being given to me by the Lord through him?" So, I am very much at peace. I was not shocked. I simply said "this is it" but certainly not taken aback. But I also say to people that, maybe because I don't know what's ahead? When the time comes, maybe I will be anxious; but at the moment, I am not anxious at all. On the contrary I am much at peace with the mission that has been given to me.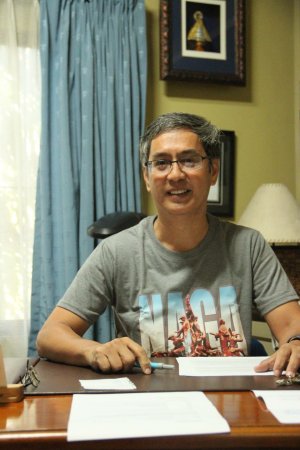 3. How do you feel now after undertaking some of the work already (or how do you feel now in this period of transition?)
I am quite enjoying actually, maybe because I am getting the opportunity again to meet more up-close my own brothers. It's a new kind of work; it is not unfamiliar as I have been rector in Loyola House of Studies, listening to our brothers. But here there is a different sense of appreciation of the work because it has to do with missioning. So when I listen to the men, I listen more keenly to what the inner movements of my brothers are and where I think the Lord may be calling them. I am particularly drawn to listen very well, to prepare myself when I see them. So that if I have to mission them, then I will have enough basis for doing so.
So, I am enjoying. In fact, yesterday I was at PGH, seeing our men there. Doing such a good work in PGH and I must say I was energized by listening to them – to the many good works they are doing for the patients, for the caretakers, for those families who have been left behind. All the many wonderful things and in partnership with the sisters and the staff of PGH – it's a wonderful work. I am happy to discover firsthand by talking to the volunteers. It's good! So far it has been good. I don't know when the time comes when it becomes not so good. But, yes, it is beautiful.
4. What will you be bringing into your provincialate from all of your previous assignments?
What are some of the things I'm bringing? Well, I am bringing everything. I think formation has been a significant part of my work and our life in the society, so, familiarity with the formation process and understanding, certainly, of how we are as human beings, psychologically, spiritually—I think that contributes to knowing the work of the Provincial. But the work of education as well, which is an important part of our mission here in the Philippines, and of being president, has given me, I think, a lot of confidence in terms of being able to dream. [Before] I was elected as President of Ateneo de Naga, I had always thought of myself as a ground personnel, ground troop. I'm always in admiration of our brothers who have great vision, can look long term. But my experience in Ateneo de Naga has given me the opportunity to do long term strategic planning, visioning, dreaming, with our people there, and I've seen that I can do it.
So I think with that experience of being able to dream with people, to walk with them, and to be able to plan with them so that we have a common vision, is something that I think I'll continue to do as Provincial with our men, with the different individual Jesuits, as well as the Jesuit friends in ministries. I think those are important things. Of course, as I said earlier, one does not bring simply a few things, but I think one brings one's total self… [For example, when] you are preparing a homily, you would think that you are reading certain references from scripture scholars or some commentaries. But in truth, when one prepares it, one brings one's total self into the reflection of past experiences; everything goes into the preparation of a homily. So, I think that is the same way into whatever work that we are given: all our experience, all of our past, and our learning, do come into play when we're doing that.
5. Although understandably tentative, what is your vision for the PH Jesuits for the next 5 or so years? What challenges do you foresee? What are your top priorities for the province?
I think this is the question that is most feared because it means forecasting into the future. When I was elected in Ateneo de Naga in November 2010, Fr. Joel Tabora, the then president, presented me to the Board of Trustees and the council of administrators – the leadership of the university – and said to me, "Oh Fr. Jun, why don't you present your vision for the Ateneo de Naga in the next years?" And I still remember very vividly saying, "Can I pass?" I will not say to you I will pass today on that question.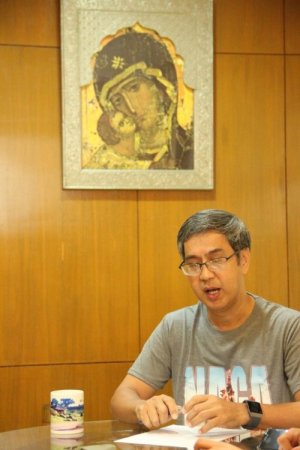 Again first of all, as I have said then, one would need to journey very carefully with our men. First of all listening to them, and again, dreaming with them, [for] all of us have a stake in the future of the province: so, listening to them and asking how they see the future of our province, especially the younger people who will soon, in the coming years will take over. This certainly have a stake in terms of the directions of the province.
Having said that I think there are many guideposts already in place as to where the province is going. I will certainly not overturn the province roadmap that was crafted by the province but we'll continue to push for that, though we are quite aware that the province roadmap is as well very tentative. We are trying to get there.
Let me just say that my own personal reading – and let me clarify that this is really a very personal reading – even when the preparations for GC 36 were on-going and we were being consulted and there was the de statu report for the whole Society in preparation for GC 36, and eventually when it did come out with the documents, one of the key things that struck me among many other things was the call for a renewal of Jesuit life. That was really very clear in the pre-GC 36 and again in the GC 36 documents.
The questions are:
• "What does renewal of Jesuit life mean for the Society as a whole and for the Philippine province in particular?"
• "How are we to renew our Jesuit life?"
• "How do we go about it?"
And of course Pope Francis in his exhortations to all of us also says that we need to continue to discern. Again that's our gift of discernment so that we can push to the frontiers again, to row into the deep as GC 36 says. But we will need to pray – I think very hard – to try to find concrete ways by which we will renew our Jesuit life, renew our lifestyle, renew our commitments to where the spirit is calling us. Will we be continuing certain ministries or shall we begin new ones in spite of our diminishing manpower? All of these are very challenging questions but I am optimistic that if we start with trying first to pray hard and to discern where the Lord calls us in terms of a renewal of our own Jesuit life. I think you can't go wrong with prayers. That is my simple take on it.
So that is how I would like to begin my term as provincial. I have a very tentative idea and I have asked others about it as well. [You see] when we were scholastics way back when we were in Philosophy, we did the 19th annotation for about four to five months. [And] we had a prepared booklet for it. And I found that very helpful. We were praying every day and we had particular themes, we had our own spiritual directors, and we had weekly sharing. And I think that was a very good moment for the province in terms of coming together and, again, in the spirit of prayer trying to seek direction.
That is in general what I think maybe the way to go forward in terms of the coming, at least in the beginning, of this provincialate.
6. What are your thoughts on the Province Roadmap for Mindanao?
[I think we need to have] clear indicators for the road map. I think people are asking for that. While we do have sort of grand visions of what we want to achieve, we need to ask what are the particular indicators, the timelines, the achievable objectives down the line with this particular timeline, so that we can measure ourselves in terms of how we are moving forward. Because it can be a very nice grand plan, but it can also be patchy, we're doing things here and doing things there. But unless we sit down and really make clear indicators for ourselves, we may end up not doing anything very well because of our own limited personnel and limited resources. So that really would be a great challenge for us.
I know people are keen and excited to move forward with it but I think we will have to be very sharp, like in sitting down and really putting up the indicators that we want to achieve so we are also not frustrated in the end. People have always said in the previous provincialates, there is always a road map, there is always another province planning, but we are not getting that far. So I think that will be the real challenge, doing concrete indicators for the province road map.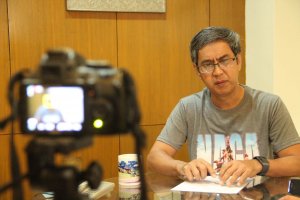 And I think there will be continuity. I think people have been a little anxious. I've been asked several times whether we will continue. I think we will certainly continue the road map. But how do you make it more firm and concrete? Though we have very wonderful objectives, what does it mean to have partnerships, for example? Who are we to partner with? What time line are we trying to follow? That sort of engagement should get clear as we move down the road, literally down the road.
7. What are your thoughts/ideas on promoting Jesuit vocation and what sort of support might be extended to this mission on a province-wide level?
I think things will come together. In our last meeting with the superiors and directors of work, Fr. Eric Escandor made a presentation on vocations promotion, and I myself think that we are doing quite well already in promoting vocations. Of course at the end of the day, we recognize that it's the Lord who calls. To my mind, it connects with what I've already said earlier. This would be a good time for the province and of course the Society in general to ask the difficult question of what it means to have a renewal in Jesuit life. The only way that we can continue to attract vocations is if our lives as Jesuits are renewed. There are many good Jesuits, as we know very well, whom we draw inspiration from. But I think the challenge is not simply of individual Jesuits but communities of Jesuits. This is not new – the vocation promoters know this – that one Jesuit can inspire a person to enter, but it is when a person sees a joyful community that the Jesuit vocation becomes more attractive for a young man to want to join. I think what Pope Francis says of the "joy of proclaiming the Gospel" comes from a deep relationship with Jesus Christ, and again, I think that is the right place to start. With the renewal of our Jesuit lives, it will help us prepare for listening to what the new missions are, and this will include the mission for vocation promotions. By doing that, I think that many more young men will feel called because they are seeing joyful Jesuit communities, and not simply a single Jesuit inspiring them to enter. So, I go back to that very, very important renewal of our Jesuit life: I think we have to answer that first, in order that we can make a dent in terms of promoting more vocations.
8. How do you envision the Society working with the local Church and with government in addressing the present and ongoing concerns of the country?
I think I speak for a lot of people that this is a very difficult question to answer. Many people are at a loss on what to do now. Certainly, it will require a lot of careful analysis; if you want, competent socio-political analysis of the present situation. To understand this, we will need a lot of experts who will help us try to understand why we are in this present situation, and this is on the one side. On the other side, on our part, we do need to come together as different religious congregations, including the hierarchy, the bishops. And as Cardinal Tagle has said, there is no way forward except to dialogue, to come to the table, firstly involving those whom we might call the coalition of the willing – those who are willing to come together to dialogue. But hopefully, more and more to include the people who may not exactly share our similar positions, but to bring them to the table so we can hear out our differences. And to come together and say that we do have more shared values, rather than differences, because we want the Filipino nation to move forward. We share the values of life, protection of life, the defense and promotion of justice. All these values I think are very much shared, but it is in the manner by which people want to achieve them that makes it very difficult.
So, I think sitting down in dialogue and in collaborating with, first, those in the coalition of the willing, and next with people of shared values, but widening those circles to include people who may be very different from the positions that we take, so that again, there is a sense of working towards the common good, difficult as it is to define what the common good is for the Filipino nation right now. It is difficult to say exactly how we should go about it at the present moment, but certainly it is better to sit down and to dialogue with ourselves first, and then also with different groups, and move forward from there.
Maybe in the coming days, I am already hoping to link up with the different major superiors of men and women religious, just to talk [however] informally. There's an upcoming San Jose Seminary Homecoming and surely it is a good opportunity to talk to our friends in the alumni, especially the bishops, and see how we can come together, pray together, and move forward together. We will most certainly require the help of many experts who understand the situation. Dialogue should be the tone when we come together, but also the expert analysis of our research institutions as well as other people who are experts in their fields, should come together in order to understand the situation at present with as much objectivity, so that, again, the truth will come out without any political bias.
Some Final Words
We have to pray really, really hard. The call for renewal amongst ourselves as Jesuits, discerning very hard, but also really thinking very hard and very critically, are all very crucial. We need to continue working with people of good faith, so that our nation and the whole society can move forward and we can make our own contribution to the development of the Filipino nation.
---
Fr. Primitivo "Jun"  E. Viray, SJ will be installed today, November 17, 2017, as the 12th Provincial of the Philippine Province in the post-Restoration period. Ordained to the priesthood in 1995, he served as Asst. Parish Priest/Parish Priest in Ipil, Zamboanga Sibugay. He then taught Economics at Ateneo de Zamboanga University, where he became Local Superior and, from 2006-2009, was Delegate of Regents. After Zamboanga, Fr. Jun was Rector of Loyola House of Studies, functioning too as Delegate for Formation and Vice-Superior of the Theologians subcommunity. In 2011, he was elected President of Ateneo de Naga University and made Superior of the Jesuits in Naga. He was President of AdNU and Chair of the Jesuit Higher Education Commission prior to his appointment as Provincial.