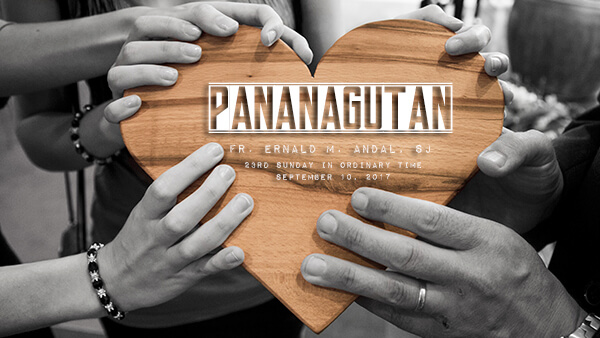 Pananagutan (23rd Sunday in Ordinary Time)
Fr. Ernald M. Andal, SJ
23rd Sunday in Ordinary Time
September 10, 2017

If there's anything more difficult for us Filipinos than receiving criticism, it is actually giving direct negative feedback. We almost always equate this as judging others harshly. We avoid it like we avoid traffic at EDSA on a rush hour!
But some have no qualms at all at lashing at people whom they feel are not living up to their moral standards or are simply thinking differently from them.
In an online article entitled: "Cardinal Tagle Denounces Killing at Drug War" (posted on September 8, 2017 at 10:42 PM by ABS-CBN News), I found the FB comments after the post more informative about the situation of our country than the actual article:
Here are some of the "enlightening" comments that caught my attention:
From J.B. (not John the Baptist):

"Wehh asikasuhin nio muna mga pari ninyong may mga kasong kalaswaan bago kayo makielam sa gobyerno! Panira kayo ng diskarte ng govt"
This comment got at least 223 likes, 18 LOLs, and 6 hearts.
This of course was followed by numerous others (at least 848 more) with the same sarcastic enthusiasm:
From J.G.M (whose profile photo, by the way has a super imposed dragon on his chest):

"Ikaw demonyong cardinal!!! Ikaw ang pumatay sa mga minor de edad,,, mamamatay Tao kayo,, puro kahayopan mga tinuturo niyo sa simbahan kaya nasisira na ang simbahang katoliko dahil sa kababoyan niyo!!!!ginagamit niyo pa ang panginoon,, doon kayo sa ipeyerno nababagay magtuturo sa mga demonyo,, salut kayo sa pilipinas!!!!!!"

From M.T. (not Mother Teresa):

"E d..cge kayong mga pare..kayo dumakip sa mga addict…para mabigyan nmn kayo ng chance dadak kayo ng dadak..ano gusto nyo pagsilbehan yang mga addct ikulong at pakainin hayahay ang buhay.."
And just so that we are on the same (web) page (which, literally, I think those making the comments didn't even have the chance to open since they were probably using free data on their phone and could only see the title of the post) this is what was quoted in the Cardinal's statement:
"We cannot allow the destruction of lives to be normal. We cannot govern the nation by killing. We cannot foster a humane and decent Filipino culture by killing."
Thinking that the Cardinal is simply washing his hands from the injustices that the Church and some of her clergy may have done as implied in the comments is a bit of stretch. To my mind, he was fulfilling what we all ought to be doing to one another. He was giving us all feedback; never mind if he'd be dammed by fiends and all, but he said what he felt was needed to be said even when most of us didn't want to hear what we ought to hear: We are not a God-less country. We are far better than a nation who's default solution to violence is more violence. And that was his point—We can all be better.
And so, in our readings today, we are told that fraternal feedback, correcting each other is not a chance to lash out insensitively at someone whom we have an ax to grind. It is our Christian responsibility so that we can all be better. In fact, we are told that we ought to do so for our own salvation, at least!
And why is that? Well, we may never magically change the mind and attitude or behavior of someone who offends us or who kills others, figuratively or literally, but we can definitely do something other than play blind, dumb, and deaf. And that something begins by being honest about our own need to be transformed.
Remember the adage that "You will be judged according to how you judge?"
Well, that ought to get us thinking: "How am I actually living my life? Am I living it so abhorrently that I make a living hell out of the lives of the people around me?" Because if that were the case, I don't think we ought to be surprised to hear people respond to our "corrections" with a piercing rebuke. But if we are at least honestly making concrete steps in bettering ourselves, I think it is a good practice as well that we invite others in this journey of bettering one another. It's our obligation, and in the end, we shall be held accountable for one another!
I like the Filipino term for accountability and responsibility: "Pananagutan" I may be wrong but somewhere in this multi-syllabic word is the word "sagot." Other than literally meaning, "to answer" we also use this Tagalog term to say "Sagot kita," or "I got your back." And I think, as people who believe that we are all part of God's great family—that regardless of our political color, we are indeed brothers and sisters, not "trolls," to one another—we ought to be reminding ourselves of this responsibility and accountability for each other.
Often times, to be true brothers and sisters to one another means making sure that no one among us falls astray the path of truth and justice, that every now and then, we check on each other's moral slip-ups, and gently but surely, correct our faults as we encourage each other's faith. We do so, not to show that we are superior to others, but simply because we love one another. We care enough for each other's salvation and are fulfilling the commandment: "You shall love your neighbor as yourself."
Isn't that the Lord's message for us today? It is indeed our obligation to share God's salvation to one another, and at the end of our lives, when we face our Father, we shall all be held accountable for one another! We ought to be ready for that day.
Lest we forget what St Paul wrote to his letter to the Romans which Fr. Hontiveros had beautifully set to music: "Walang sinuman ang nabubuhay para sa sarili lamang…tayong lahat ay may pananagutan sa isa't isa…tayong lahat ay pinili ng Diyos na makapiling Niya."