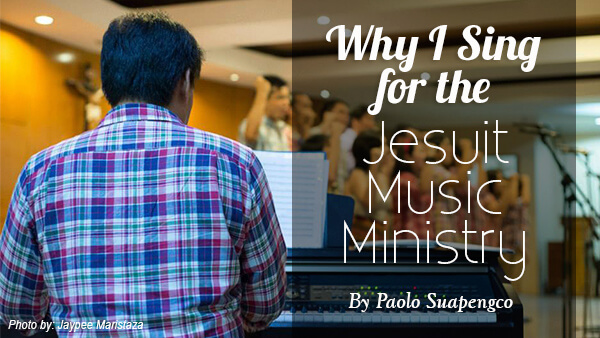 Why I Sing For The Jesuit Music Ministry
Paolo Suapengco

"Do you get paid for singing in Hangad?" a student of mine wanted to know.
"No," I answered, a little perplexed by the question.
"Then why are you a part of it?" he questioned.
(Long pause)
"Because there are things in this world that have nothing to do with money," I eventually, vaguely replied.
I was disarmed by the question, and I was left feeling uneasy afterwards, thinking to myself, I could have given a more confident, meaningful, and concrete answer.
Since then, I would at times imagine myself being asked the same question and would think of possible ready-answers. I still could not think of the best response to this question; not until today.
Allow me to share something that happened to us, which I think was a first for all of us in Hangad.
We had finished our second Mass set for the Mary the Queen Parish in San Juan. We normally just sing for one service, but on this day, we were asked to sing for two time slots. By the time the second service had ended, we were already tired, and we were excited to leave because we would be attending a despedida party for one of our members who would be leaving for Australia.
As we were packing up and getting ready to leave, a young lady went up to the choir loft and approached us, hesitantly and with a lot of embarrassment reflected on her face. She didn't know how to start speaking and just began with an apology. She readily admitted that she didn't know any of us personally, but she knew of Hangad. Probably due to the strangeness of her actions, her first impulse was to ask the group out for dinner. Reading our bewildered faces, she eventually found the courage to make her bold request.
In tears, Dindi Salvador shared with us that her father was in the hospital, dying. He had suffered three strokes and was now barely holding on. The family was, in fact, just waiting for him to pass on. She held back her tears in order to ask us if we would be so kind enough as to sing for her dad in his small hospital room at the National Kidney and Transplant Institute (NKTI).
We didn't even have to think about it. Our immediate response was when and how soon did she want us to go. She was too shy to impose. It was the group's unanimous decision to go that very night. Dindi couldn't believe that it would be that easy — that all she needed to do was muster the courage to ask.
Jeanie, Eric, Willan, Louis, Meechee, Tricia, Anapet, Clare, and I squeezed into the hospital room with the family. We sang One Thing I ask, Psalm 73, and Let Me Be Your Stillness. As the members of the family started crying, everyone of us became involved and attached to the family's situation and could not stop our own tears from falling. The love in that room was overflowing and overwhelming.
(On a personal note, this was the same hospital where mommy had her dialysis treatment for some time. Seeing Mr. Fernando Gorospe, Dindi's father, also reminded me of daddy who also suffered three strokes before passing on. )
As we left, Dindi hugged each and everyone one of us in gratitude, everyone in tears. This night affected each one of us so sorrowfully, yet so beautifully.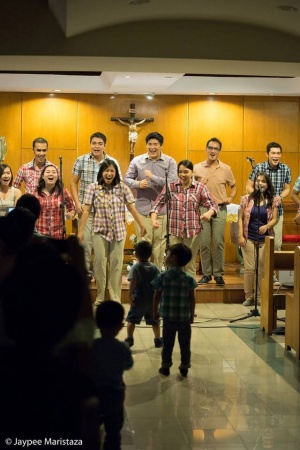 The next time anyone asks me again if I get paid for singing in Hangad, my ready and courageous answer will now be, "Yes, I am paid."
I could easily say that we are paid through the lives that we touch and inspire. I can also say that our payment is in being God's instrument in easing the pain of broken and wounded hearts. However, these, while all true, are not the greatest forms of payment we receive (at least not in my opinion).
Tonight I witnessed the unconditional love of a daughter for her dad. I witnessed how a shy and meek young lady humbled and went beyond herself by mustering the courage to approach a bunch of strangers, just so her dad could be sung to in his last moments. I witnessed how members of a family joined together to surround a dying loved one with prayers, love, and music.
To be a witness to this kind of love, compassion, and humanity is truly precious. I don't think there is any greater form of compensation than this.
---
Paolo has been singing with Hangad for almost 10 years now. He is also a member of the English Faculty of the High School department of Xavier School in San Juan.  The above article appeared in the 1st quarter 2014 issue of The WINDHOVER, The Official Magazine of the Philippine Jesuits. For HANGAD's latest album and concerts, check out their website here.