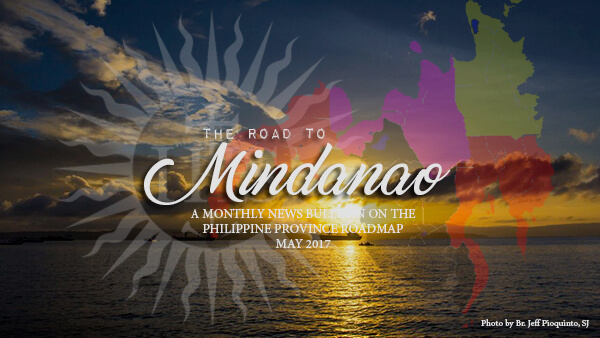 The Road to Mindanao (May 2017 Bulletin)
Released by the Philippine Province Commission on Ministries & Jesuit Communications
May 2017

"PURSUE WHAT LEADS TO PEACE"
EXCERPTS FROM THE MINDANAO BISHOPS STATMENT ON THE MARAWI CRISIS AND THE DECLARATION OF MARTIAL LAW (26 MAY 2017)
+ORLANDO B. CARDINAL QUEVEDO, O.M.I., ARCHBISHOP OF COTABATO
"In the strongest terms we condemn terrorism in its various forms. It is an ideology that is totally against the tenets of any religion of peace. Especially so when terrorism is perpetrated while our Muslim brothers and sisters are preparing for the holy month of Ramadhan. Terrorism distorts and falsifies the true meaning of any religion. It destroys harmonious relationships among peoples of different faiths. It creates a world of suspicion and prejudice, of hatred and hostility.
Our Catholic faithful have asked for pastoral guidance regarding Martial Law. We are guided by the Sacred Scriptures and by the social teachings of the Church. St. Paul exhorts us to "pursue what leads to peace" (Rom. 14: 19) …. We have many fears. But at present we simply do not have solid and sufficient facts to absolutely reject the declaration of Martial Law as morally reprehensible. But we are certainly agreed that Martial Law must be temporary ….We shall condemn any abuse of Martial Law and as in the past will condemn it outright if it goes in the way of evil. Let us be vigilant.
The focus of every religion is peace on earth, peace in heaven. Let us pursue together what leads to peace. Let all religious teachers and leaders quell the tendencies towards the terrorist ideology. Together let us pursue what leads to peace. Let us pray for peace and work for peace."
XAVIER UNIVERSITY: PHILIPPINE PROVINCE MARAWI RELIEF EFFORTS
In his letter to on the Marawi crisis of 26 May 2017, Fr. Provincial Antonio Moreno SJ encouraged our Jesuit communities and institutions to channel aid through the Social Development Office of Xavier University (XU). Ms. Gail de la Rita, Director for Student Social Formation of XU, reports that as of 7 June 2017 the Province relief campaign has gathered nearly PHP 1M in monetary donations. 7867 hygiene kits have been distributed, and massive amounts of rice, canned goods, halal food, and other similar items have been coursed through various evacuation centers. Among the partners of XU in distributing the relief goods have been the Office of the Vice President, the Archdiocese of Cagayan de Oro, Synergia, and the Mindanao State University – Iligan Institute of Technology.
Ms. de la Rita also reports that as the relief drive progresses, resources will be channeled increasingly to the establishment of community kitchens, health/medical mission initiatives, and eventually, reconstruction efforts. Monetary donations continue to be accepted, and can be coursed through: Account Name – Xavier University; Account Number – 9331-0133-63; Bank – Bank of the Philippine Islands; Branch – Divisoria, Cagayan de Oro. Donors are asked to email finance@xu.edu.ph once donations are deposited.
ATENEO DE DAVAO: MADARIS VOLUNTEER PROGRAM
In the midst of the unrest in Marawi, the work with and for our Muslim brethren continues. Vinci Bueza of Ateneo de Davao University (ADDU) shares with us this uplifting update on the Madaris Volunteer Program:
"The Madaris Volunteer Program (MVP), a program that sends volunteers to teach DepEd-mandated subjects in selected pilot madaris (Islamic schools) in Cotabato City and Maguindanao for a long-term, immersive volunteer service dedicated to an active 'apostolate of presence,' readies a new batch of volunteers for deployment with a rigorous two-week training this 1-12 June 2017.
In the program's third iteration, ten volunteers from all over the Philippines have joined the mission of improving the quality of education in the Bangsamoro through the creation of a new environment of shared learning, respect, and cooperation between and among Islamic schools and Catholic schools. The current batch of volunteers will be deployed to the program's various partner-madaris in Cotabato City and Maguindanao, where they stay with host families in the Bangsamoro for the duration of an entire school year, engage in interreligious dialogue with Bangsamoro communities, and advocate peacebuilding through education.
This year's participating partners are the IQRA Academy in Cotabato City, Gani L. Abpi College, Inc. and Markaz Al-Husaim in Datu Piang, Madrasatul Al-Shellawe in Sultan Kudarat, Hadji Ali Baganian Memorial School in Talayan, Mohammad Bin Al-Dahirie Islamic Academy in Guindulungan, Mahad Saada Al Arabie Integrated School in Datu Salibo, and Datu Ibrahim Pendatun Paglas III Foundation in Datu Paglas. This year also marks the inaugural volunteer deployment to Markaz Zehra, a pilot-madrasah in Lamitan City in the province of Basilan. Markaz Zehra is the MVP's first partner-madrasah in the Bangsamoro island-provinces.
The Madaris Volunteer Program is an initiative of the Catholic Educational Association of the Philippines, and is implemented by ADDU through its partnerships with National Association of Bangsamoro Education, Inc., the Bureau of Madaris Education, and the Autonomous Region in Muslim Mindanao."
NOTE: This bulletin is meant to keep our Philippine Province Jesuits and partners in mission updated regarding developments in the implementation of the Province Roadmap. Please email any news contributions from your respective apostolates to rrivera@xu.edu.ph.