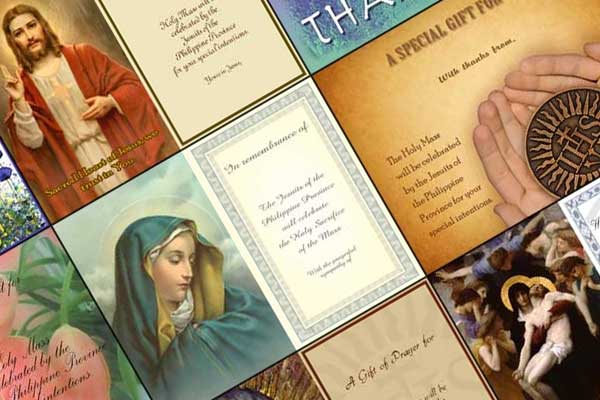 How can you have a Mass offered for a birthday, or any other special occasion, and have a keepsake of this Mass as well? It's late, and you are on your way to a wake — where can you get a Mass card?
With a PhP 500 donation made using your credit card, you can now create an online Mass card that comes with an electronic tribute board.
Click here to make the donation and begin creating your online Mass card.
Or scroll down for more information…
---
The Gift of Prayer
The Holy Mass is the greatest possible prayer of intercession insofar as it is the perfect offering of Christ to the Father. It makes present Jesus' gift of his life, death, and resurrection. Thus, no better prayer can be offered for someone than the Holy Sacrifice of the Mass.
It is a long-standing tradition in the Catholic Church for people to ask a priest to offer a Mass for the intentions of others both living and dead. Since 1581, the Jesuits in the Philippines have offered Masses for the dearly departed at the request of their loved ones. Since its foundation in 1950, the Philippine Jesuit Aid Association has offered Mass cards as keepsakes for Masses celebrated for the intention of the recipient if living or for their eternal repose if deceased. The donations received through these Mass cards have supported the formation of Jesuits from the Novitiate to ordination and through studies.
---
What is a Mass card?
A Mass card is given to someone to let them know that they, or a deceased loved-one, will be remembered and prayed for during a Mass.
The faithful generally make an offering or donation for the Mass card. By their generosity, they associate themselves with Christ who offers himself completely for us in the Mass. The donation also shows gratitude for the priest celebrant, helps support ministries and apostolic works, and provides for the long years of formation of those preparing to be priests and brothers.
---
What is an online Mass card?
Online Mass cards are available through the website of the Philippine Jesuits at www.phjesuits.org. From the website, Mass cards can be sent through the Internet to recipients who can read the cards online or print them out. Those who create the Mass cards online can also print out the Mass cards themselves and give them personally. Click here for a sample all-occasion Mass card.
Choosing an online card also entitles the one who sends the card to an electronic tribute board for posting testimonials about the recipient. These online tributes can honor a birthday celebrant, congratulate a couple on their wedding anniversary, celebrate any special occasion, or invite eulogies to be posted about a loved one. Click here to visit a sample tribute board.
To get your online Mass cards, click the link at the end of the instructions below:
1.) In the donation page where you will be directed, make an offering of P500 or more using your credit card. (This suggested amount helps us cover our costs and allows you to make a contribution to our aged and infirm Jesuits, to the apostolic works of the Society of Jesus, or to the formation of the next generation of Jesuits.)
2.) After a few clicks, your donation will be processed, and you will be directed to a page where you can start creating your online Mass card. You will be guided through the process which will ask you to:
– Choose a category (for anniversaries, for birthdays, in gratitude, for the departed, or for other occasions);
– Choose a design, and input your name and the recipient/s name/s;
– Create an online tribute board (optional); and
– Input your email address and the email addresses of those you would like to receive the Mass card and write a short message.
3.) Your online Mass card will be emailed to within a few minutes. You will also be given a link to this Mass card and to your online tribute board. Any post on the board can be reflected in your Facebook account – if you wish.
Click here to start creating your online Mass card.
Some of Our Online Mass Card Designs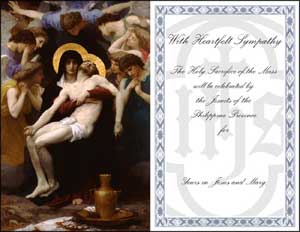 Where can I get a traditional Mass card?
PJAA offers traditional mass cards at its office. Traditional Mass cards from the Philippine Jesuit Aid Association are available at Rustan's Department Store, Shopwise Antipolo, and Loyola House of Studies (in the Ateneo de Manila University campus).
You can also visit us at:
PHILIPPINE JESUIT AID ASSOCIATION, INC. (PJAA)
3rd Floor, CLC Center
Seminary Road, ADMU Campus, Loyola Heights
1108 Quezon City, Metro Manila, Philippines
Tel. Nos.: +63 (2) 926-5974, +63 (2) 926-9831
Fax No.: +63 (2) 926-8150
Email: pjaa@phjesuits.org
For questions, suggestions, or more information, send an email to: masscards@phjesuits.org