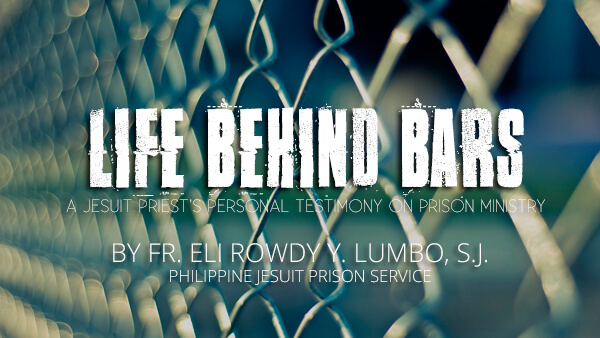 Life Behind Bars (Philippine Jesuit Prison Service)
Fr. Eli Rowdy Y. Lumbo, SJ
Executive Director, Philippine Jesuit Prison Service (National Bilibid Prisons Reservation)
February 10, 2017

Doing prison ministry is not easy. It is a full time ministry. One can never really rest as there are so many things to do. Each time I enter the prison camp, I do not know what to expect. After all I minister to more than 20,000 inmates in the National Penitentiary. In my ministry, I make it a point not to judge the inmates as I do not know their real and complete story. Majority of them come from poor families and a good number have not had education or a good education. I would not begrudge them their choices. I will not make the prejudices of our society the basis of how I deal with supposed "criminals." As a priest, I am invited to enter the world of the convicted felon. As I enter their world I come face to face with my own sin and my need for God's mercy. As I pray with them during Mass, I feel their sorrow, pain and need for mercy. Mercy, a fellow Jesuit shared with me, is an invitation to enter the chaos of another, the willingness to be with the sinner, to accompany the sinner. Is this not what our Lord did in the incarnation? He entered the chaos of humanity. God's boundless mercy is such that no matter our sins, his love and mercy will always have room for us.
Allow me then to share stories which I have personally heard from my almost six years now in the PJPSFI which is based in the New Bilibid Prisons Reservation in Muntinlupa City, Philippines.
There is a story of an inmate who killed both his parents when he was high on drugs. He has been in prison for more than 10 years now. He says there is no single day that he has not felt remorse; no single day he has not felt pain for being the cause of the death of people who loved him and whom he loved. He knows that even his incarceration will never give him peace. He suffers each day not just because he is in prison where the conditions are far from humane given the congestion and the lack of facilities and the absence of good food but more so because of the pain of knowing he killed the very people who gave him life. Every day, he goes to Mass and prays for mercy, for the forgiveness of the people he hurt. Every time I see him I see the pain in his eyes, yearning for forgiveness, for peace, wanting to change the past, if only he can, but facing the future with a desire to change, hoping that one day he learns to forgive himself as he knows God has forgiven him.
There is a story of a former inmate who was released after having been in prison for 12 years. He was acquitted of a crime of murder, a crime he did not commit. While in prison he suffered because of congested and inhumane prison situation and more so because he longed for his children. They suffered also; they grew up without a father who would provide for them, protect them, comfort them, or just be with them. In PJPS we rebuild lives and rekindle hope through, among others, the scholarship program where we send the children of the inmates to school, hoping to stop the cycle of criminality thru education, and giving hope and reason to change to the inmate. What if he had been killed, and then our courts realize that he was innocent? In PJPS we fight for their rights, for their life, even if it means being persecuted, ridiculed and taunted. In PJPS we care for their families, in particular, their children.
There is a story of an inmate who was into drugs pushing because he was envious of the things his rich friends in school had. He was a scholar in a prestigious school. He wanted to have what they had and drugs became his means. But he was caught. In detention, he did not inform his family of his predicament because in his mind he did wrong, the only one to blame, and he should be the only one to suffer. But we all know this is not the case. When someone we love suffers, we suffer and shed tears with them. When the family of the inmate realized he was in prison, they visited him. But he shoved them away. He said, I committed the crime; let me be the only one to suffer. But they said, "do not deny us the choice to love you." Separation from the people we love is a tragedy in itself. We who have lost loved ones to sickness, accidents or violence know this. In PJPS we minister to such people because for Christ came to search for the lost, the last and the least.
There is a story of an inmate who was convicted of a crime he said he was not guilty of. But the truth is, he was given a choice: admit a crime he was innocent of but his family is provided for or deny his participation in the crime and he gets killed. His family would lose him and they get hungry. He chose to admit the crime because he says he would rather have a good life for his family. He is now in the Maximum camp serving a sentence of more than 20 years. He says he just thinks he works abroad and sends money to his family. If we were in his shoes, what will be our choice? I believe we are the choices we make. We choose what we do. But more often than not, our emotions and fears, sins and frailties, influence and even determine our choices. In PJPS we listen to their stories, discern with and guide them. One of the prayers of the inmates is to be with their families. A couple of months ago PJPS was instrumental in the reunion of an inmate and his mother. They reunited after 25 years. Such reunions are heart wrenching, connects the long years of separation, breaks through the barriers of numbness and opens the floodgates of tears and emotions. I was witness to theses reunions and I could only shed tears when parents embrace with so much love and longing their child.
There is a story of an inmate, convicted of rape when he was still a juvenile, who has been in prison for more than his lifetime. He was 16 when the crime occurred. He is now past 40. He was with older people whom he considered friends. When they raped a woman he joined them. There are those who as juveniles grew up on the streets, not having had the guidance of a parent, not having had the privilege of growing up within a family where love was nurtured, where they would have had experienced love and taught to love, where they would had been taught right from wrong. In PJPS we spend time with them to teach them. Yet we also realize that they teach us as well.
There is a story of an inmate who I observed as serious, who despite the smile I saw as rather forced. He seemed not to know how to enjoy life. (Of course who would enjoy life in prison). I gave him the feedback. His reply broke my heart. He said what I said was true. Early on he was given to an aunt who at a very young age made him work hard. As a child he did not know what play meant as he had no chance to play. This he said made him very serious about everything; he was always anxious, irritable, and impatient. He is now where he is because of this. A joke from another led him to do something wrong. I felt for him. I feel for the inmates. In PJPS we enter their lives and understand them and help them understand that although they have lost their childhood, that they have lost their way, it does mean they would remain lost. We help their rehabilitation.
There is a story of an inmate student I had inside the penitentiary. I teach all the Accounting subjects, from 2nd year to 4th year in the college for inmates, an extension of a prestigious university. The inmates get a degree in Entrepreneurship after 4 years. I I caught him, in a way cheating. His exam paper and answer sheet was with a classmate who was copying his answers. I told him I trusted him and asked why he allowed this incident? He kept quiet. I told him he should be instrumental in change, not just for himself but for others as well. He cried and apologized saying that this is the reason why he is in prison in the first place. He was charged as an accomplice to a crime because he kept quiet when a killer hid in his house. He said he should have said something then as he should have said something now. In prison we come face to face not just with the sinner, but the reality of sin. We are not just confronted with the criminal, but the crime as well, not their sin alone, but ours as well and the sin of the world.
We are familiar with the Parable of the Prodigal Son. The younger son demands from his father his inheritance and spends this on wild living. When he had spent everything, a famine arose, and he became hungry. When he came to his senses he realized that while he was starving, his father's servants had food to spare. With this he set out to go back to his father with a ready statement: "Father, I have sinned against heaven and against you. I am no longer worthy to be called your son." But when he was still a long way off, his father saw him and ran to him. Before he could say anything, his father welcomed and embraced him. Before he could even understand what was unfolding, his father rejoiced and celebrated as he had him back.
Last September 8 this year, I pronounced my final vows as a Jesuit. I chose as my venue the prison camp. A day before, however, I had a Mass at the Reception and Diagnostic Center, the place where the newly convicted inmates from the City or Provincial Jails are brought. Before the final blessing, the inmates extended their hands over me in prayer. They thanked God for me; they blessed and celebrated with me. I was so overwhelmed by the experience that I silently shed tears. Here I was, a sinner, prayed over by sinners, loved by those deemed as loveless.
On the day of my final vows, during the homily Fr. Wilfredo Samson, SJ said that many were shocked that I chose to pronounce my final vows in prison but he said he expected this, as a robbery, an anomaly and a miracle have happened. Robbery as, he said, the inmates, they who are seen as dregs and cancer of society, have stolen my heart. An anomaly as it is an anomaly to love those undeserving of love, and to be loved by the loveless. Fr. Willy says in my heart I knew what unconditional love meant – to love without asking for anything in return, to love even when the inmates do not change, and to love even when I am hurt and tired. The prisoners are still God's children. They deserve to have a second chance to change. A miracle as my heart has been tattooed with the impalpable love of God. In prison it is rare to have an inmate with no tattoo as it is a sign that they are brave, and that they belong to a gang, who protects them and will even fight for them. In prison I was, I am tattooed with God. I belong to God. I am a victim of love as I freely chose to be a victim of God's love. This is the reason why I chose to pronounce my final perpetual vows in prison. I wanted to tell the inmates that despite their sins, there is room for grace, that despite their being "unlovable," they can be loved. There is so much space for them in God's heart.
Pope Francis has always had a special place in his heart for prisoners. He washed the feet of prisoners. He insisted on a Jubilee for Prisoners in the Vatican during this Holy Year of Mercy. During the Mass, he centered his homily on hope, seeking to kindle hope in the prisoners: "God hopes! His mercy gives him no rest. He is like that Father in the parable, who keeps hoping for the return of his son who has fallen astray." God is love. This is why I truly believe His heart will always have room for the inmate and His mercy will always be willing to gather the sinner in an embrace.
____________________
The Philippine Jesuit Prison Service Foundation, Inc. (PJPS), is a non-stock, non-profit organization that advocates a more humane approach to the rehabilitation of incarcerated individuals and their families. Since our inception in 1994, in coordination with the Bureau of Corrections personnel and with the help of generous benefactors and volunteers, we have continuously provided various programs to help alleviate the conditions of our incarcerated brethren and their families. In its commitment to rebuild lives and rekindle hope, PJPS has been providing inmates not only with pastoral care but also social services and medical assistance, scholarships for their children, and livelihood program to help them re-integrate to mainstream society. These programs continue to this day. If you wish to help our ministry, please click here.