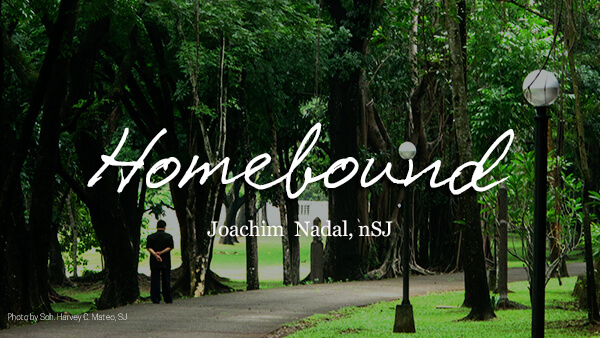 Homebound
By Joachim Nadal, nSJ
August 5, 2016

A few days ago I was asked by a former student of mine about my vocation story. He was persistent in trying to know about the turning point in my life which brought me here – a couple of days away from entering the Novitiate of the Society of Jesus which for the most part of my life I never imagined to be in such moment. Looking back in my life, I see how God's story of mercy continues to unfold for me. Growing up, there were days where my dreams and ambitions were so clear – days where I couldn't imagine anything ever changing. Yet with the sudden turn of events we experience our God of surprises and how He leads us to places we never dared imagine.
It is true, that even up to now, I wonder what did I ever do to deserve all these blessings given to me by this Potter who creates and re-creates us out of love again and again. I ponder my littleness before this Potter and I am caught with a profound mercy and compassion that refuses to yield before the ruins of my past reassuring me that if I allow Him to mold my life, that if I allow Him to work His ways in me, there is always a way to be good, that there is always something to fill my days with joy and wonder, and that life will always be new in the morning. It is a kind of mercy that makes my heart burn and long for home, a compassion that sets me off to a journey in search for a love that is boundless and lasting. The path that lies ahead may confront me with fear, doubt, and uncertainty, yet it is a path that is filled with the hope of a redeeming love from the Man who in His life gave Himself each day – Jesus Christ. No one else accomplished the greatest for the good of mankind by being so simple, so neglected, and so persecuted. No one else dreamed greater than us than Christ, who even if He was belittled showed us that there is nothing weak with our own smallness that hopes to be guided by the One who continually forms and sustains us everyday. Don't we all wish to follow his example and take on the same path of self-giving?
God's story of mercy continues. We may get lost once in a while in our journeys. But it is in those moments where we learn to dig deeper than what the world normally offers and seek for directions only God can provide. It is in those moments we find ourselves in utter reliance in God's mercy until finally one day we find ourselves homebound. And so as I enter the novitiate, I know I am not lost. I know that I am guided slowly to a path of of self-giving. I am homebound – towards where my heart truly belongs. For stories of coming home speak of taking roads where we begin and learn to commit our lives to something greater than ourselves – that life is not about how we matter to others, but how others matter to us Ad Majorem Dei Gloriam. These are the roads we take.  These are the roads that make us surrender our lives to the One who draws us to places we can call home. And I am ready to take this road.
Home is where God is.
Please continue to pray for us novices as we begin our life in the Society of Jesus. Surely, we will take with us all of you in our prayers. AMDG+
---

Joachim "Kim" Nadal, 25 years old, entered the novitiate August 5, 2016, together with seven other young men.
If you're considering the religious life, please join our vocation discernment seminar on November 5, 2017, Sunday, 8:30am to 4pm at the Loyola House of Studies, Ateneo de Manila University. For more info please contact 0917-JESUITS (09175378487). No registration fee. For more information, click here.