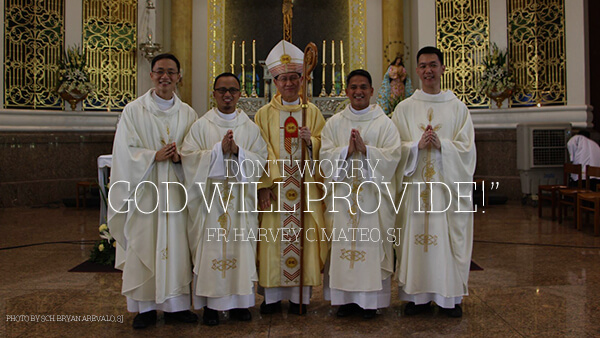 God Will Provide!
Fr. Harvey C. Mateo, SJ
June 4, 2017

Among the most awaited parts of each presbyteral ordination is the announcement of assignments of the new priests by Father Provincial. This year, however, Fr. Tony Moreno broke tradition by releasing them last Easter Sunday, along with the rest of the new assignments of other Jesuits in the province. Though it may have taken away some of the excitement that come with these celebrations, this was a practical decision that facilitated the turn-over of responsibilities during the ten week gap leading to the ordination. Learning ahead of time that I was to be missioned to Zamboanguita, Bukidnon as school director and assistant parish priest turned out to be an unexpected source of graces for me during those weeks leading up to the big day. It provided me with another kind of preparation.
It will not be the first time I will be setting foot in Zamboanguita. I had encountered the Jesuit mission there many summers ago as a UP Pahinungod student volunteer, long before I showed any interest in religious life. Little did I realize then that I would be returning to the same place, twenty years later, as one of its priests.  To be honest, when I first learned of the possibility of being sent there, this fact did not immediately awe and amaze me. Instead, it struck me as quite eerie—it felt more like a manifestation of divine mischief, rather than of God's mysterious plan. My familiarity with the place should have reassured me. Instead, I felt even more apprehensive. Of course, it didn't help that I have not received any training regarding school administration, nor have I spent my regency years in a high school environment. In addition, despite my eleven years in the Society, I have not really become conversant in Bisaya.
Nevertheless, my passive acceptance of this mission and initially tepid reaction did not last very long. In our first communication since the Easter announcement, Fr. Ernald Andal, SJ outgoing school director of Saint Isidore High School, expressed much joy in welcoming me to Zamboanguita and assured me that it was a good place to spend my first years as a priest.  I didn't need much convincing. As I looked through his Facebook photos, I got excited over the prospect of getting to know the Lumad scholars whose company he was obviously enjoying. I could already tell from his pictures how deeply he felt about them. In fact, one of the first things he ever endorsed to me was, "Please take good care of our Lumad scholars." Not too long after that, I actually got to meet three of these scholars when they were flown in from Bukidnon to Manila for a benefactors' event in San Juan and witnessed for myself how much they in turn adored him. This, I thought, was the joy of the Gospel shared among the shepherd and his sheep.
Since his return to Manila, Ernald and I have been holding several meetings to talk about the school and parish responsibilities he is turning-over to me. After all, this new mission will be more than just being "father" to these young men and women. Whenever I would feel overwhelmed by the surge of new information to be remembered and problems to be addressed, he would say these words without fail, "Don't worry. God will provide." In those moments, I never felt like he was simply mouthing cliches for the sake of allaying my freshman fears. It really sounded like coming from someone who in the past three years of pastoral ministry has learned to rely on a God who has truly been generous and trustworthy, through good times and bad. It was an infectious confidence that I am sure is shared by all our Jesuit brethren in the Bukidnon Mission District.
During my ordination retreat, the grace I constantly begged for and received was the desire to become more intimately connected to Christ, especially as I embrace this new assignment in Zamboanguita. I asked that I be always reminded of how this mission is God's and how it can never prosper through my own efforts alone. Hopefully, this puts my fear of failing in the mission in its proper perspective. How can I fail if it is God's love that fuels this mission? It is by God's mercy that I have been given this vocation and it is through his mercy that I shall be able to participate in his unfolding plan for me and for the people I shall be serving. In addition, I pray for the humble and discerning heart of a good shepherd who not only knows his sheep and stays with them, but also listens and learns from the God who also dwells in them.
In these last days of Easter, we have been revisiting the resurrection accounts and rediscovering how the disciples were always at a loss without Jesus by their side. Indeed, it is only through God and with God that we are able to carry out the mission he has given us. During these final days of preparation, I ask that I grow into this priesthood intimately connected to the priesthood of the Good Shepherd—because there really is no other way to be a priest in the Society that bears his name. Kindly join me in praying for the grace to also share that same joy in the mission and deepen in my trust in the God who provides for all of us.
---
Fr Harvey finished his psychology degree at UP Diliman and proceeded to UP-PGH for medical school. He was doing further medical training in Houston when he heard the call — so persistent that he joined the Jesuit candidacy at Arvisu House by January 2006 and entered the Jesuit novitiate in May that year.
He was ordained on June 3, 2017 by His Eminence Luis Antonio G. Tagle at the Oratory of St. Ignatius, Loyola House of Studies. He was ordained with Frs. Roseller Atilano, SJ, Martin Licup, SJ, and Philip Yohan, SJ. Know more about the Jesuit vocation, text 0917-JESUITS or email at vocations@phjesuits.org.