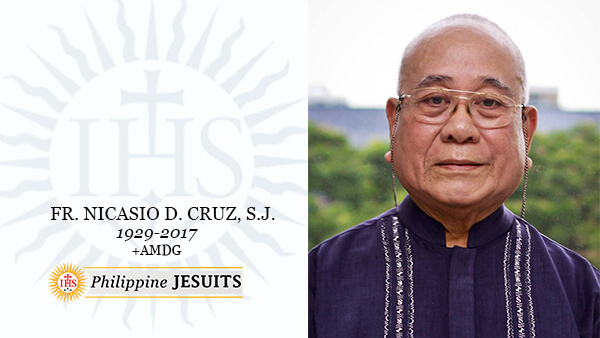 Fr. Nicasio D. Cruz, SJ (1929-2017)
December 10, 2017

This is to inform you that FR. NICASIO D. CRUZ, S. J. died this morning in Cardinal Santos Medical Center, San Juan. Fr. Cruz, 88, entered the Society on 30 May 1947 and was ordained a priest on 19 June 1960. Requiescat in pace.
Wake:  The wake starts tomorrow in the Oratory of St. Ignatius, Loyola House of Studies, Ateneo de Manila University campus, Loyola Heights, Quezon City. Daily wake Masses at 8 p.m.
Funeral Mass: On Thursday, 14 December at 8 a.m., also in the Oratory of St. Ignatius.
Interment: Sacred Heart Novitiate Jesuit Cemetery, right after the Funeral Mass.
---
BIOGRAPHY OF FR. NICASIO D. CRUZ, SJ
By Sch. Amado T. Tumbali, SJ, Asst. Province Archivist
Fr. Nicasio Dimaguila Cruz, S.J. was born on 14 September 1929 in San Miguel, Manila. He attended primary school at San Miguel Elementary School from 1936-41 and graduated with second honors. After World War II, he did his secondary education: a year at Arellano Public High School in Sta. Cruz, Manila and two years at San Jose Minor Seminary (1945-46).
At the age of seventeen, he joined the Jesuits at Sacred Heart Novitiate, Novaliches on 30 May 1947. His companions were future Jesuit priests Juan Bonafe, Ramon Mores, Juan Sanz, and Antonio Olaguer. They also did Juniorate at Novaliches (1949-51). Philosophy followed in Berchmans College, Cebu City where Fr. Nick earned a Master of Arts degree in Philosophy (1951-54). During regency, he was assigned to the Ateneo de Manila High School where he taught Latin and Religion (1954-57).
From there he went to Woodstock College in Maryland, USA for Theology and finished with a Licentiate in Sacred Theology (1957-61). Fr. Nick was ordained priest with Frs. Mores, Sanz, Olaguer, Bonafe, Jose Arcilla and Simplicio Sunpayco on 19 June 1960 at the Woodstock College Chapel by the Apostolic Delegate, Most. Rev. Egidio Vagnozzi, D.D. He then had tertianship at Our Lady of Martyrs Shrine, Auriesville, New York (Sept 1961-June 1962).
Back in the Philippines, Fr. Nick's first assignment as a priest was to teach Theology, Philosophy, and Sociology at Ateneo de Naga (1962-63). Next he was assigned to formation work: San Jose de Mindanao Seminary, Cagayan de Oro City as choir and stage director and teacher of Latin and English Literature (1963-65), where he pronounced final vows on 15 August 1963; San Jose Seminary, Highway 54, Quezon City as choir and stage director and teacher of Greek Grammar and Literature (1965-67); Sacred Heart Novitiate and San Jose Minor Seminary, Novaliches as moderator of The Ambassador, assistant spiritual director, and teacher of Latin, Drama, and English Literature (1967-72); and San Jose Seminary College Dept. at the north wing of Loyola House of Studies as spiritual director (1972-82) and director (1981-82).
In 1975-76, Fr. Nick studied Cinematography at the London Film School. From 1982 until his death, he was based in the Jesuit Residence and at the Ateneo de Manila University as professor of Film Theory, Filipino Film, Ethics of Communication, European Cinema, Asian and Latin American Cinema. He gave courses in Film Theory at Maryknoll College and Film Production and Film Appreciation at the East Asian Pastoral Institute from 1985-90. Since 1974 he has been teaching Audiovisual Catechetics at Maryhill School of Theology, and similarly at the SVD Theological Seminary (1981-85), Loyola School of Theology (1984-2001), San Carlos Seminary (1985-91), St. John Vianney Theological Seminary (every two years between 1988-95) and at the Recoletos School of Theology since 2000. Fr. Nick was also a juror for the Catholic Mass Media Awards (1979-89) and the Metro Manila Film Festival (1985-2001), and served board member of the Movies and Television Review and Classification Board (1998-2016).
Besides being full time in formation and learned ministries, since 1984 Fr. Nick also engaged in various pastoral works with the following communities: Blessed Sacrament Sisters, Bahay Pangarap for the Handicapped, San Jose del Monte Barrio Chapel, Manresa Retreat House, Nazareth School, National Telecommunication Office, National Statistics Office, Muntinlupa Correctional Penitentiary for Women, Marian Missionaries of the Holy Cross and Buklod ng Pag-Ibig.
Fr. Nick was active apostolically almost until the end of his life. About four months ago he was diagnosed with olfactory neuroblastoma (cancer of the nasal cavity). The spread of this sickness was marked by declining health. Fr. Nick died of complications from pneumonia in Cardinal Santos Medical Center at about at 8:20 a.m. on 10 December. He was 88 years old. Of his 70 years as a Jesuit, 57 years were spent primarily in the education of seminarians, religious, catechists, film makers and college students.