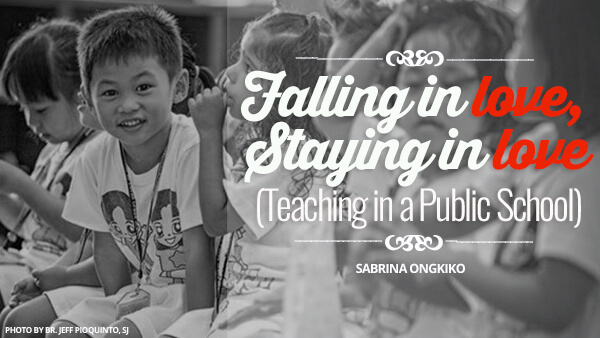 Falling in Love, Staying in Love (Teaching in a Public School)
Sabrina Ongkiko

Zoom out.
Philippines. 38,000 public elementary schools. 13 million public elementary school students. 560,000 public school teachers.
Zoom closer.
Quezon City. 96 public elementary schools. 260,000 students. 5,500 teachers.
Zoom even closer.
Culiat Elementary School. 3,000 elementary school students. 80 teachers.
This is where I teach. I come to school everyday to rooms full of students, always arriving just in time to see the grade 6 students filing out of the room to give way to the grade 5 students who will hold their classes in the afternoon.
A Different World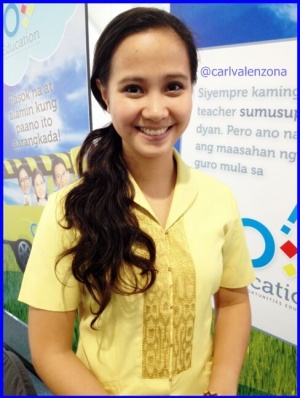 I teach five of these classes from the middle to the lowest sections. Some of the students don't come in complete uniform, but that's okay. The government doesn't require this of them, especially since many of them can't afford it. And when I see their worn out backpacks (one kid's backpack had no zipper, he would close it with a plastic string), their newly shined battered shoes, school polos borrowed from their brothers who attended that morning's classes… I know they're trying their best to make the look complete.
It has dawned on me that for them, it's not just a uniform. It is something that tells them that here, it's a different world. For a while, they can forget about taking care of their younger brothers and sisters, of helping their parents earn money, or worrying about what to eat the next day. It reminds them that for this afternoon, they are students. They are in school.
Falling in Love, Staying in Love
I never looked at school that way before. I never realized that by choosing to be a public school teacher, I would have these young faces haunt me every day. They are the ones who wake me up in the morning. Eager faces telling me that they can't wait to do our experiments in class – these drag me to school during days when I'm so tired that I just want to go home and sleep for a month. They fill my thoughts even when I'm away to study for a year in another country such that every lecture I attend in this foreign university ends with me asking, "How do I use this for my students?", "Will this work for education in the Philippines?", "Will this help our teachers teach our students better?" I can't stop thinking about them. It's crazy! They give me life. Sometimes they break my heart, other times, they make my heart sing. A simple, "thank you, Ma'am" or a hug makes my day. I think I'm in love.
Fr. Arrupe had it right when he said, "what you are in love with, what seizes your imagination, will affect everything." And affect me it did. Because now I cannot help but care – about their problems, their hurts and pains, their dreams, their stories, the person they will become. Because now I cannot help but do more and be more for them – to stretch my patience, to rack my brains for strategies to engage them in learning, to assure them, affirm them, listen to them. Sometimes it becomes overwhelming.
Because they are worthy
I remember one poignant moment in class when we were discussing mixtures. Due to lack of time and resources, I opted to just bring all the materials from home and do a demonstration. I had a small table in front of me and brought out plastic cups (because we didn't have enough beakers), bottles of vegetable oil, soy sauce, salt, water, etc… all lined up so students could see what would happen when you mixed these things together. I was about to pour a tablespoon of salt on the vegetable oil when the students shouted, "Ma'am huwaaaag! Sayang! Ipangkakain na lang po namin yan." I stood there, holding the spoon of salt and a hundred questions ran through my mind. What am I doing? Is this really such a waste? Will it be better to just join an NGO to provide their basic needs than to teach? What do I have as a teacher against my students' socio-economic background? Against poverty? Against hungry stomachs and tired bodies?
My students' realities never became more real to me than in that moment, and I was deeply bothered. I went to the chapel and I found myself looking at the man on the cross. I was asking myself why God had wasted such a beautiful life, the life of His own innocent Son for sinners like us. God's simple answer was, "because you are worthy." I never planned to fall in love with my students but unknowingly, I think God uses this love to show my students that they are worthy.
Silly Dreams
Julius was a very active child. He was always standing or playing around in class during lessons so I moved his seat to the front and made an agreement with him: if he behaves well during class, I would give him a star and for every collection of 5 stars, he'd get a prize. He went through a whole week well behaved and got a fire truck eraser.
One day, I saw his lips were bleeding so I pulled him aside. He was hesitant to tell me at first but eventually I learned that his mom slapped him. He was so angry that he wanted to run away. He hates it that his mom makes him work. He shared that he's tired of selling balut after class. Now, one thing people didn't know about me was that I have this dream of selling balut. I find it fascinating how people can shout, "baluuuuuuuut!" with a deep voice that's so loud and clear. I got excited so I asked him if I could accompany him when he sells balut. I expected him to look at me like I was crazy but when I looked at his eyes, what I saw was disbelief, "Talaga Ma'am? Sasamahan mo ako?" His tone was telling me that he couldn't believe that what he's doing outside of school is important to a teacher. And I couldn't believe either that God would use my silly dream of selling balut to tell Julius that he's worthy to be paid attention to. It was a reminder that the mission wasn't to teach, it has always been to love. Looking at this child, I realized that God wouldn't allow Julius to grow up angry. He loves him. And I hope against hope that Julius would always go back to this moment to remind him that somebody cared. That the world isn't all pain and hurt and anger.
Before our conversation ended, I commended him on his good behavior in class and I lightly asked, "o, inaalagaan mo ba ang eraser mo?" He took something out of his pocket and showed me the fire truck eraser. He never uses it but it was always in his pocket. It was that important to him. An affirmation that he is a good boy. That night, I went with him to sell balut.
This is but one story of so many, of students with similar stories of hunger – for affirmation, for attention, for a listening ear, for love. It's a story found not just in my school but in every school in the country.
A public school teacher stands in front of an average of 200 students every day for a whole year. That's powerful. Imagine if every teacher takes this seriously, we really can affect a whole generation of students and influence them to participate and contribute to society. But more than having power, being a teacher is an opportunity to make love and hope realities in our students' lives.
---
About the Author
Sabrina Ongkiko graduated from the Ateneo de Manila University in 2005, joined the Jesuit Volunteers Philippines (JVP) and eventually found her personal vocation as a public school teacher. She was selected to be spokesperson for the Go Education campaign of the Department of Education. This article originally appeared in The WINDHOVER. 
Jesuit Volunteers Philippines (JVP) is a community dedicated to the task of nation-building by promoting volunteerism and serving as a development network in increasing literacy, creating more equitable access to health services, education, and community life, especially for the marginalized and underprivileged. If you want to be our mission partner, click here.